Senior Front-end Developer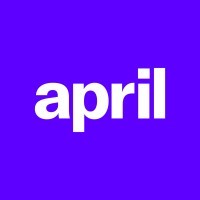 April (Getapril.com)
Software Engineering
Tel Aviv-Yafo, Israel
Posted on Thursday, July 27, 2023
About The Role
We're looking for a brilliant, curious, creative, and fun-loving Senior Front-end developer with that's ready to take on a huge opportunity to build both April's customer-facing platform and 1st of its kind analyst "coding" platform!
If you're all that and looking to lead, invent, and grow professionally you should definitely consider applying to join us on our journey!
As a Senior Frontend Developer, you will bring designs into life. You will plan a high-scale frontend system, design and implement complex web and mobile applications using cutting-edge technologies and frameworks. You will work closely with other team members, product designers and product managers to deliver a high-quality, scalable platform.
Responsibilities
Lead the design and development of April's customer-facing experience.
Lead the design and development of April's analyst tooling experience.
Be Part of our core engineering and leadership team.
Build a cloud-native application with a modern microservices architecture.
Mentor, and grow the team, our practices, and our technology stack.
Work closely with the product & UX to define the company roadmap and execute the development plans.
Design system architectures, select/evaluate tools, and open source projects to use within our architecture.
Requirements:
At least 5 years of experience with TypeScript/JavaScript and building client-side applications using modern frameworks such as React/Angular/Vue.js etc.
Proficient understanding of web markup, including HTML5, CSS3
Familiarity with best practices of UI/UX.
Experience with common front-end development tools such as Babel, Webpack, NPM, etc.
Experience with building responsive and accessible enterprise-grade web/mobile applications.
Experience working in an agile and dynamic environment.
Outstanding drive and communication skills.
Familiarity with CI/CD pipelines and cloud infra. Have the ability to "make stuff work" on top of writing good code.
Advantage : familiarity with Bazel build tool
Advantage : familiarity with gRPC framework
About April
April believes that every taxpayer should have a best-in-class tax experience, regardless of their background, income bracket, or what they can afford to pay. We build products to improve their financial wellbeing, reduce anxiety around taxes, and provide tools that put their taxes to work for them.
For financial institutions, April is a first-of-its-kind tax experience that is completely frictionless and integrated with the financial services ecosystem. Unlike other DIY tax solutions, we leverage and reinforce their relationship with their members, driving mutual value, savings and new offerings.
For developers, April provides simple and robust APIs for them to leverage every aspect of the US tax code, and perform calculations and AI-based simulations for creating new experiences within their application or platform.